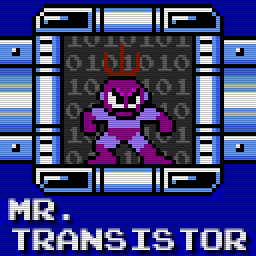 Well this one took some time to master for sure but it was all worth it! Mr. Transistor is the 7th finished song off our forthcoming album, Chipsurf Pipeline. Though the chippy sounds are dominated by the 2A03, this song features a bit more influence from the GameBoy than previous songs. The voice in the beginning and the chip-leads at Tim's favorite break are from our modded DMG-001 GameBoy running LSDJ. The same GameBoy that was recently modded for us by Thursday Customs, who did a fantastic job!
It is also our first foray into 8-bit glitch type sounds. As a result, the sound is a bit more mechanized. In fact, originally it reminded us of The Factory in Final Fantasy VI a bit with a very surfy twist of course. It perhaps tells less of a story than our other songs. It is more of an anthem. Mr. Transistor's anthem, in fact. A robot focused on taking over the world one switch at a time…
Mr. Transistor is available to listen to on Soundcloud, to download on the Chipsurf Pipeline Download page, and for purchase at Bandcamp.
Not to go all emo, but we are a small two man band starting from zero so we appreciate your support! If you cannot help us monetarily by buying our work, simply tell your friends or help spread the word about us if you like what you hear! We would sincerely appreciate it! Above all else, though, we mostly hope you enjoy our music!
[soundcloud url="http://api.soundcloud.com/tracks/21136673″ params="show_comments=true&auto_play=false&color=340080″ width="100%" height="81″ ]