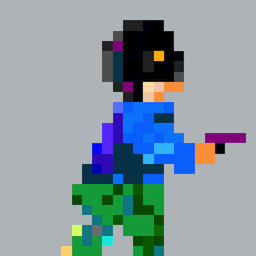 Well it seems like it takes longer and longer to push out new songs but we finally finished it! This one took longer more so due to external forces (namely Tim falling victim to an ugly stomach bug) than mastering, although that did take a good chunk of time as well. This song is pretty fun because it uses real tube distortion using Tim's tube mic pre-amp. It's only in a few tasteful locations (it can easily be overused) but it does add some nice depth here and there.
We are also particularly happy with the intro since it really sets things up for the overall tone of the song. Though this one does not use the GameBoy, it does use the extra channels and saw found on the VRC6 sound-chip as emulated on the PowerPak. For our newer songs we have opted to use the GameBoy to do what would have previously required emulating the VRC6 chip. This song is actually one of our first songs we started working on and predated the GameBoy. We didn't want to change the sound too much so opted to keep things the way they are.
In any case, we hope you like it! You can find the song for listening at the usual suspects. You can download it off SoundCloud (linked below) and off the Chipsurf Pipeline album page. If you want to help support the band, you can buy this song as a single or pre-order the whole digital album off Bandcamp. And for the curious, yes, we are still trying to figure out how to put the album on vinyl!
[soundcloud url="http://api.soundcloud.com/tracks/22851261″ params="show_comments=true&auto_play=false&color=340080″ width="100%" height="81″]