I normally post these sorts of things on my personal blog, but I thought I would make an exception here because I think it could very easily relate to our future plans for Victim Cache and thought our fans might also find it pretty interesting.
A few weeks back, I ran into this post on /r/vinyl by Christpher Philippone mentioning his self-funded project for pressing his 7″ called Off the Deep End. As far as I can tell, Christopher has done pretty much everything himself (recording, mixing, mastering, funding) so, in a very true sense, it's an Indie effort. He basically had me at Hello so I opted to grab it up before the limited edition copies ran out. I had missed my chance at similar projects (such as Mile Green's 1957 limited edition white single) before they were sold out so didn't think twice about it this time around.
Christopher did not disappoint! I received the 7″ yesterday. It came in a plain white sleeve, but was signed by Christopher personally and came with a separate Thank You note. I was just tickled by this and while it might not sound like much, it just really helped connect me to the work. He could have easily done nothing and just shipped it out to me but, instead, took just a bit more time to personalize it. Of note, he also numbered both the sleeve and record itself. It was just a very thoughtful and nice touch!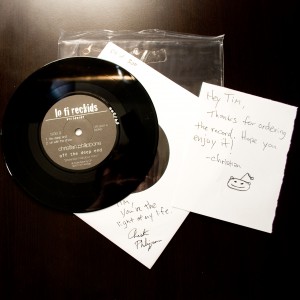 The 7″ itself looks almost like an old 78RPM record to me with an unobtrusive but vintage looking label. It was also recorded in mono, which also favors the 78RPM style. According to the above Reddit post, it was pressed by Pirate Press using Direct Metal Mastering which is the first piece of vinyl I (knowingly) have to use that method. As a result, I was fairly curious to how the vinyl sounds over the digital.
The difference is actually rather subtle, but I do like the sound of the vinyl just a bit better. I would bet they came from the same (digital) master, but the thing that makes the vinyl better is perhaps its flaws. The surface noise, occasional pops, and harmonic distortion, as well as influences in my setup, are all elements that make the vinyl sound more organic, in my opinion. Of note, the highs are not as pronounced than the digital but I think that makes things sound more pleasant and that can be correct by adjusting your EQ. The dynamics on both formats is appreciated – it did not seem to me that compression was used on the master output, nor was a limiting. Neither the digital nor vinyl show any sort of limiting. The mix flows naturally and while it may sound less professional than modern big-name tracks, I rather like that. The personal touches Christopher added make among my favorite to have in my collection. That plus 7″ singles are pretty fun when you get down to it. For Chipsurf Pipeline, we really want to do a full LP but, were that to fall through, a 7″ is certainly something we have considered.
It's a release that, if you have a few bucks to spend, is one I recommend picking up. It's a fun release, and just like us, he is a truly independent artist which means it helps support him directly. If you want to check it out, head on over to Christopher's Bandcamp page.